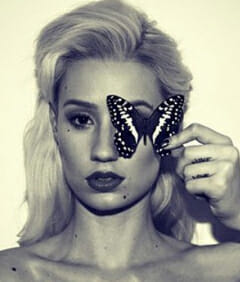 From magazine covers to book covers, single eye and all-seeing eye symbolism seems to be everywhere. The following honorable mentions that have appeared in the limelight over the past couple of months includes actresses, singers, rappers, and even a religious figure with ties to the entertainment industry.
Rihanna Strikes an Interesting Pose with Snake for British GQ
Posing as a snake-haired Medusa for the cover of the 25th anniversary issue of British GQ, suspected Illuminati princess Rihanna is no stranger to embracing the reptilian side of her persona. We've seen the singer represent characteristics of the serpent in some of her music videos, including the reptilian shape-shifting seen for her 2012 song 'Where Have You Been.'
During the British GQ photo shoot, the singer (complete with reptilian contacts), poses with a snake that just so happens to cover one of her eyes – a reference to single eye symbolism that Rihanna so famously incorporates in many of her photo shoots and music videos.
Vanessa Hudgins' Cell Phone Case Design is Quite Interesting
Vanessa Hudgens is an actress who has dabbled in the music world, and while on the set of one of her latest projects, photographers captured an image of the design featured on her blinged-out cell phone case. Interestingly, it depicts the all-seeing eye pyramid (Eye of Horus) that is often associated with the Illuminati. Whether she intentionally chose this design for its intended purpose or not, she's a celebrity that a lot of younger fans look up to.


Leona Lewis' Christmastime Prop Used to Create Single Eye Symbolism
Single eye symbolism knows no boundaries, which is why some people won't think twice about Leona Lewis using a Christmas bow to cover one of her eyes in a visual representation for her single 'One More Sleep.' However, those of us who have been following the trends of the entertainment industry already know that there is meaning behind the all-seeing eye symbolism related to the Illuminati that continues to pop up in many photo shoots for music artists. The cover art for Leona's entire Christmas album shows a collection of snapshots, which include not one, but two examples of single eye symbolism.


Single Eye Symbolism + Butterfly Mind Control in Iggy Azalea's 'Change Your Life' Single
If you are unfamiliar with Iggy Azalea, then you should know that she's a rapper hailing from Australia who has received quite a bit of airplay in the U.S. Signed to Island Def Jam, she's already had her own fair share of the same kind of symbolism that her label mates, suspected Illuminati princess Rihanna and Kanye West, tend to embrace. When promoting the 'Change Your Life' single, she uses a butterfly (a nod to Monarch mind control programming) to cover one of her eyes to create single eye symbolism.
Even Priests Are Doing It…
In one of the oddest uses of single eye symbolism, there is the cover for a book written by none other than a priest for the Diocese of Lexington, Kentucky. Father Jim W. Sichko wrote 'Among Friends: Stories from the Journey,' which ranked 19th in the Self-Help/Spiritual book category of Amazon.com. The book is an account of Sichko's use of noted personalities (mostly from the entertainment world) that he would bring to Richmond for church fundraisers.  A priest using this piece of imagery on the cover of his book certainly has people scratching his or her head.